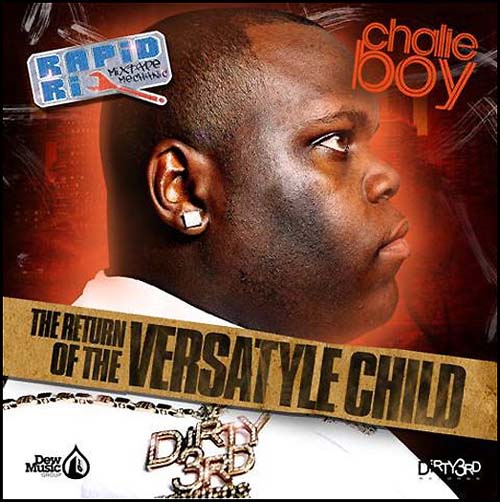 Is it slightly ironic that his single is called "I Look Good?"
Meet Chalie Boy. Chalie Boy's from a town in the country two hours outside of Houston. (Mildly amusingly, Chalie once said of this town in an interview, "you know we got ourselves stores and little hole-in-the-walls so we know how to get down like everybody else." Calvert TX: it has stores.) Chalie's new song, "I Look Good," is about the shit he and the girls he knows wear. Uninspiring subject matter, yes; the main attraction here is the crazy quasi-gospel hook ("I look GOOOD, I look

GOOOOOD

") and Chalie's singsong flow and affable warmth. Think Nelly if he didn't come off as sort of a retarded prick, or maybe Z-Ro if Ro weren't terminally depressed. Also of mild interest is how he praises a shorty's "Christian Luhbowtins" and her House of Dereon jeans in the same breath (yes, that's Beyonce's cheap, tacky clothing line), suggesting that he doesn't have the slightest clue what he talks about. Which is endearing somehow compared to, like, Kingdom Come Jay's encyclopedic knowledge of luxury watches. Anyway, I will do my due dilligence and see what other stuff he's done, but this guy sounds very promising.

Chalie Brown, 'I Look Good,' c/o MuzikFene, a sort of Southern Nah Right Jr. for those of you obsessed with Gucci Mane. Seriously, everytime Gucci Gucci burps, they've got it. They had this one song the other day with Yung Joc and Gucci was rapping like an idiot as usual (in the old-school sense of someone with such a low IQ that he got put in an institution), and then Gucci goes "I'm rapping like an idiot." Well at least he's aware.



So this Ju character is "of" D4L in spite of the fact that, as of their last album, he wasn't in it. I guess all this anonymity and confusion explains why he walks around with a t-shirt that says "I AM JU" on it. Well anyway, Ju put out a mixtape a couple months ago, and judging by the three songs I've heard off it Ju, or his uncredited producer, is the most progressive producer in the game (next to Block Beataz of course) which helps because Ju has no personality and can't rap. 'Gangsta N Your Life' sounds like the sort of "authentic Chinese music" they play at bad Chinese restaurants. 'Trapped Out' sounds like the soundtrack to a very strange trip, not a beat for a song about a sixth-rate trapper-rapper's "brand new house, brand new car, brand new chain." Actually maybe a better analogue would be a really weird version of the music they play in kid's movies when the hero goes in the cave discovers the buried treasure and all the crazy jewels are glistening. Anyway, it's all very weird, and weird is good - not, but in this case it is.